The Women's National Book Association is a national organization of women and men who work with and value books. Read More
Subscribe to our Newsletter!

Click here to Donate & Help
Support the Chapter
Sponsoring Member:
Margaret Karlin - more
Allison Cohen
Become a Local Sponsoring Member:
Local sponsoring membership is available to any individual, local organization, or agency that desires to make an initial or additional annual contribution to the chapter.
CLICK HERE TO SIGN UP
_________________________
Women's National Book Association
WNBA United Nations
Press Releases
WNBA-LA BYLAWS
Boston Chapter
Charlotte
Detroit Chapter
Nashville Chapter
New Orleans
New York Chapter
San Francisco Chapter
Seattle Chapter
Washington Chapter

National Reading Group Month
____________________________
WNBA/LA Executive Board
President:
Rachelle Yousuf
Vice President:
Liz Donatelli
Corresponding Secretary:
Cynthia Levin
Recording Secretary:
Kaleigh Tuso
Treasurer:
Suzanne Kleinbub
Immediate Past President:
Ruth Light
Committee and Representatives
Membership Chairs:
Suzanne Kleinbub and
Ruth Light
Graphic Designer:
Cheyenne Yousuf
Social Media Chair
Danielle Miller

Auditor:
Holly Shaffer
Judy Lopez Award Liaison:
Meg Flanders
Judy Lopez Memorial Foundation Representative:
Jeff Slottow
Newsletter Editors:
Editor: Ruth Light
Member News Editor:
Jovita Jenkins
The Bookwoman Coordinator:
OPEN
WNBA/LA Web Mistress:
Terri Negron
Members at Large:
Rosalind Myatt
Joan Slottow
Jeff Slottow
Lindsay Lees
Ruth Garcia-Corrales
Open Positions:
• Chapter News Editor
• Hospitality
• Parliamentarian
• Publicity Chair
_________________________
WNBA/LA chapter members holding Trick or Treat donation boxes for UNICEF.
WNBA/LA Presents...The Writer's Voice
Join us for a riveting afternoon of readings by the Women's National Book Association's exceptionally talented authors.

Get ready to be entertained, surprised, or inspired by great writing! You will hear funny, fascinating, dramatic, or romantic stories all in one memorable afternoon.
Sunday, July 19, 2015
Diesel, A Bookstore
225 26th St
Santa Monica, CA 90402
3:00pm-4:30pm

RSVP here!

Please contact Ruth Garcia Corrales or Jovita Jenkins for more information. [email protected], or [email protected]


About our Authors:
Dawn Blume
Dawn Blume Hawkes is the author of ChefChops.com. Dawn is a California-born, European- and American-educated cook and author. Living the bi-coastal and bi-continental life began with her parents transporting her from California to Boston to New York and back to California again, where she eventually earned her BA and master's degree in English and design. Traipsing around the United States and subsequently crossing the continent to explore European lands, Dawn began attending classes in London, England, at the Ealing School of Art, Design, and Media, and started writing for various publications including the British weekly magazine of satire, Punch. Among these endeavors, she also took on the quest to travel and seek out instruction from the best European chefs offering regional cooking classes, which quite naturally led to an appreciation of the diversity of cuisines and the skills of the chefs.www.chefchops.com. [email protected]
Lisa-Catherine Cohen
Three-number-one-hit lyricist, Lisa-Catherine has garnered two platinum CDs, several top 5s and 10s, and film and TV song placements, worldwide. Locally, she performs her work as spoken word with live music. She will be performing one of them at THE WRITER'S VOICE. Lisa-Catherine is completing her book, THE LOADED CUFFLINK; Ten Ways to Survive Forgive, and Let Go of A Parent's Rage. During 2014, a child Holocaust survivor-saved by Schindler himself-commissioned Cohen to author KUKA: The Miracle Child in the Red Coat-A Story of Courage, Love, and Survival. An oft-published editor, Cohen assists people-in groups or one on one-to write their books. www.Lisa-Catherine.com, [email protected], 323.413.2311

Conny Caruso Hutchinson
A native of Brooklyn, Constance Caruso took the asset of her first-generation Sicilian culture and ran with it, leaving behind all clichés associated with the Italians of 1930s America. Brooklyn College, UCLA, and a number of Writers' workshops honed the craft that resulted in release of her first book at the age of 83. Her story is not for sissies. With grit and determination, she gives evidence that where we come from does not necessarily hamper what we are able to accomplish. Caruso resides in Los Angeles and continues to enjoy family, friends, and an entrepreneurial lifestyle; she is currently fundraising for Homeboy Industries in downtown Los Angeles. [email protected]

Jovita Jenkins
Jovita Jenkins is an executive/leadership coach, speaker, and author. A pioneer in the aerospace industry, serial entrepreneur and educator, Jovita is an expert in personal reinvention, a dynamic speaker on topics of success and personal reinvention, and the author of the best-selling book, Get Out Of Your Own Way - Create The Next Chapter Of Your Life. She is passionate about helping her clients, audiences, and readers get out of their own way, tap into their inner strength, enhance their leadership skills, overcome their success roadblocks, and create more fulfilling lives and careers. www.jovitajenkins.com. [email protected]
Robin Kellogg
Robin Kellogg is a professional writer who works with her clients to improve their written communications. She also holds workshops for aspiring authors, one of which will focus on creating a legacy ebook, scheduled for August. A Life Put on Hold was her first book, which she wrote under the pseudonym of Evie Rosen. She wrote it to reach out to other parents of special-needs children who often feel like they are alone in the dark. Robin is currently working on both a novel and an ebook on business communications. [email protected], [email protected], www.alifeputonhold.com

Antoinette Laudermilk

A resident of the San Gabriel Valley and former executive director of a nonprofit afterschool program, Toni observed how parents unknowingly damage their children by making them hold on to painful family secrets. Her experience working with those youngsters made her decide to write a memoir of her own childhood in which abuse was our family secret. Toni is a photographer, an online entertainment columnist, Toni's Hollywood Report, and an onstage storyteller, using her essays as material. [email protected]
Barbara Schiffman
As a Life & Soul balance coach, Akashic Records advanced teacher, and certified hypnotherapist, Barbara Schiffmanblends scientific concepts and intuitive principles into practical life-improvement tools and books. She's written e-courses for Daily OM about taking leaps of faith and energizing life from the inside out. Her books include The Akashic Muse and Living in Balance for Boomers (available on Amazon). She's edited other authors' novels and non-fiction works, and contributed chapters to anthologies about screenwriting, spiritual growth, and life enhancement. Barbara offers private counseling and group workshops to help people create more life & soul balance, peace, and joy. [email protected], www.YourLifeandSoul.com, 818-415-3479

Rossandra White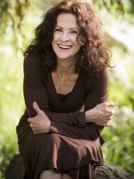 Rossandra White is a fourth-generation South African author living in Laguna Beach, California, where she hikes the hills and canyons with her Staffordshire bull terriers, Fergie and Jake. A recipient of many writing awards, she has been published in Writer's Digest and Interstice, among others. Her memoir, Loveyoubye: Holding Fast, Letting Go, and Then There's the Dog, was published by She Writes Press in April 2014. Rossandra is in the process of seeking publication for her two YA novels, Monkey's Wedding and Mine Dances, set in Zimbabwe and Zambia. [email protected]
We are looking for volunteers to read to kids.

Every summer Curacao, the retail department store chain with several locations serving the Hispanic-American community, has provided a summer reading program. And for the second summer in a row, WNBA/LA has collaborated with Curacao to provide the volunteers to read to the kids. The program is offered every Saturday all summer long, and it is presented in Curacao's large, friendly, colorful Kids Zones, which are located within the stores. Everyone who read to the kids last summer had fun, and the kids loved it...so please contact Ruth Light if you would like to join us this summer and be a reader... [email protected] or 310-397-4503.